Ribble Ultra SL
When being fast, just isn't fast enough! Faster in the wind tunnel, faster on the road, the Ultra SL is designed to dominate, defeat the wind and make your fastest rides faster than ever before.
Begin Building or
Choose a popular build
Build your own Ribble Ultra SL
Don't want to build your own? No problem. Below are the most popular builds with other riders, ready to ride or change as you like.
The Ultra SL is the result of our extensive R&D, paying particular attention to how the airflow interacts between the bike and rider. Taking an innovative approach to design and integration we've created a bike that hits the pinnacle of aerodynamic performance at real-world speeds and in everyday riding conditions. Through vigorous testing of the holistic package of bike and rider, we've ensured that a true performance gain is realised with the Ultra SL proving to be consistently faster than the benchmark Endurance SL R. Already aero-optimised and super light in design, the Endurance SL R has competed at World Tour level and been ridden to many victories by the Ribble Weldtite Pro Cycling and DROPS racing teams. The Ultra SL isn't just a bike for pro racers, it's a superfast aero bike for everyone who is looking for significant performance gains in their pursuit of speed.
With watt-saving gains being achieved across all areas of the frameset, the Ultra SL has been optimised to perform in real-world conditions. Specifically around 5-10° of YAW to simulate the crosswinds most commonly experienced by a cyclist. Every aspect of this drag-defying aero bike is engineered to slice through the air with incredible efficiency and precision.
Based on the drag savings demonstrated in the Wind Tunnel and further evidenced in Real World testing, when riding the Ultra SL, Enthusiast riders* would achieve on average a 54.9 second saving over 40km, and 50.2 seconds for Pro's**.
*Enthusiast rider = based on test speed of 22mph. **Pro rider = based on test speed of 29mph. Time savings calculated from Drag savings in real world and wind tunnel comparison testing. See p.19/20 in R&D Paper for results.
Visit our dedicated page to read more about our research and development process
*STAT: Quoted as average between 5-10 degrees of YAW
Every element of the frame, fork, and seat post has been dissected, analysed, profiled, and tested in the pursuit of ultimate aerodynamic performance. To minimise drag, the forks form a holistic package with the headtube and handlebars to maximise airflow across a complete range of YAW. With fork blades of 68mm x 15mm proving to be the optimal sweet spot for managing airflow, providing significant aero gains at 5° and beyond. The profile of the fork and the position of the blade in relation to the rider and other downstream elements of the bike optimises airflow across the entirety of the bike. This interaction proved so harmoniously efficient that from 10° of YAW, the tube profile, in fact, starts to generate thrust, helping to propel you, rather than push you back.
Aerodynamically optimised tube shapes ensure that the transition between the headtube, fork, and lower downtube performs from both an aerodynamic and handling perspective in the full range of YAW conditions typically encountered by a cyclist. The lower section of the downtube has been optimised to be faster with a bottle than without, demonstrating an advantage in generating thrust from 10° including the bottle. A crucial transition with the bottom bracket provides the torsional stiffness required for optimal power transfer which results in tangible performance gains.
The optimised and truncated seat tube profile conforms to the curvature of the rear wheel to shield the leading edge from the wind and significantly enhance aerodynamic performance by reducing turbulence.
The hallmark of any aero bike is its clean aesthetics and streamlined form. Integration of the brake mounts moves the brakes inboard of the fork profile to enhance airflow over the front end and minimise the effects of drag.
The LEVEL 5 integrated handlebar system takes cable integration to the next level. It allows every cable to be fully hidden within the frame for a clean, cable-free aesthetic, and a drag reduction in all instances of up to 40% when compared to a standard handlebar and stem setup. With a super-stiff carbon monocoque construction and all-day ergonomics, the LEVEL 5 system suits the speed-conscious road rider with a taste for comfort and an eye on the podium.
The rear seat stay profiles are aerodynamically perfected to provide the ideal drag-defying ratio of width to depth which significantly enhances airflow over the rear end. Positioning the stays in perfect alignment with the forks maintains optimal flow attachment and reduces drag downstream of the rider for superior aerodynamics and lateral stiffness.
You decide the design, we create the bike. Be bold and bright or stealthy as you like. With millions of combinations, you can make a bike unique to you.
Just select customise after choosing your size.
Your Bike. Your Way
To assist you in selecting the correct size simply find you height below. The graphic below illustrates our recommendations so you can be confident that the size you order will be correct.
X-Small
5' 3" - 5' 5"
160cm - 165cm
Small
5' 5" - 5' 7"
165cm - 170cm
Medium
5' 7" - 5' 10"
170cm - 178cm
Large
5' 10" - 6' 1"
178cm - 185cm
X-Large
6' 1" - 6' 3"
185cm - 191cm
View Full Sizing & Geometry
Size
XS
S
M
L
XL
Rider Height
5'3" - 5'5"
160 - 165cm
5'5" - 5'7"
165 - 170cm
5'7" - 5'10"
170 - 178cm
5'10" - 6'1"
178 - 185cm
6'1" - 6'3"
185 - 191cm
Wheel Size
700C
700C
700C
700C
700C
A - Seat Angle
75.0°
74.0°
73.5°
73.3°
73.3°
B - Top Tube (mm)
515
535
555
570
585
C - Head Angle
72.0°
73.0°
73.0°
73.5°
73.5°
D - Offset (mm)
53
45
45
45
45
E - Head Tube (mm)
105
120
140
160
180
F - BB Drop (mm)
69
69
69
69
69
RC - Chain Stays (mm)
410
410
410
410
410
FC - Front Centre (mm)
518
575
585
598
613
Stack (mm)
506
523
545
564
583
Reach (mm)
379
385
392
401
410
WB - Wheelbase (mm)
981
975
985
999
1014
G - Seat Tube C-Top (mm)
470
500
520
540
560
Available on
Cycle To Work
The Ribble Ultra SL is available to order on cycle to work schemes.
We accept all major cycle to work scheme vouchers.
Frequently Asked
Questions
How much does the Ultra weigh?
The Toray T1000/T800 carbon frame weighs 1200g and the forks 580g, for a combined total weight of 1780g (size medium). Complete build weights are; Sport - 8.65kg, Enthusiast - 8.60kg, Pro - 8.50kg.
How does the Ultra's construction differ from that of the Ultra SL R?
Similarly to the SL R, the Ultra SL is constructed from Toray T1000 and T800 carbon fibre. However, the SL R uses more T1000 fibre within its layup which makes it slightly lighter (250g) and stiffer.
What warranty is offered on the frame?
The frame is guaranteed against manufacturing defects for a period of 3-years, all other components are covered by the standard manufacturer's warranty.
Can I specify the Ultra handlebars on this bike?
The Ultra Aero handlebars are exclusive to the Ultra SL R and are only currently available on that particular model of bike.
What type of bottom bracket does it take?
The Ultra has a 68mm BSA threaded bottom bracket shell, allowing for ease of maintenance and enhanced reliability.
Is the Ultra SL UCI Legal?
The Ultra SL has been approved to compete in UCI sanctioned events by cycling's governing body. However the disc brake adaptor for the front forks must be swapped out for the alternative version supplied with the bike. Failure to follow these guidelines when competing in events carried out under UCI regulations will result in disqualificaiton.
Are the cables internally routed?

Yes, the LEVEL 5 carbon integrated handlebars in combination with the frameset enable all the cables to be fully hidden, preserving the super sleek lines of the Ultra for maximum drag savings.

What is the maximum tyre size size?

The frame is aero-optimised around 28mm tyres and can accommodate tyres up to 32mm.

Does the Ultra require a specific type of bottle cage?

All standard bottle cages and bottles are compatible, the Ultra is optimised to be faster with a bottle and cage fitted than without.

How many bottle cage mounts are there?

Two, situated on the down tube and seat tube.

Are the axles thru-axle or quick release?

The frame requires thru-axles of 100/125/M12*P1.5 front and 142/173/M12*P1.5 rear.

Is it mudguard compatible

Due to the Ultra being a speed-centric aero bike, there aren't any integrated mudguard mounts.

​

What is the maximum rider weight?

We recommend a maximum rider plus bike weight of 120kgs.

Can I fit the Ultra carbon tri bar extensions?

Yes you can. The carbon extensions bolt into the underside of the handlebars, making use of the 2 mounting points that would normally be reserved for an out-front computer mount. Anyone wanting to mount a cycle or GPS computer can simply mount it to the extensions themselves.

Can I fit a computer or lights to the LEVEL 5 handlebars?

Absolutely, though the aerodynamic profile of the top portion of the handlebar makes finding compatible lights and computers difficult. To get around this we have designed the handlebars to accept any compatible out-front computer mounts which bolt into the underside of the handlebars.

Is the bike supplied with pedals?

Due to the many different systems people use we do not supply pedals with bikes, but you can find a great selection of pedals here.
Ultra
Research & Development
Built for speed, the Ultra SL R/SL is a superfast aero bike that offers everyone from the everyday road rider to pro racers a significant performance advantage in their pursuit of speed. Its advanced aerodynamic frame and forks, optimised for outright speed gives you the power to dominate everywhere, from bunch sprints to alpine climbs or lone breakaways.
Read more about the development of the Ultra range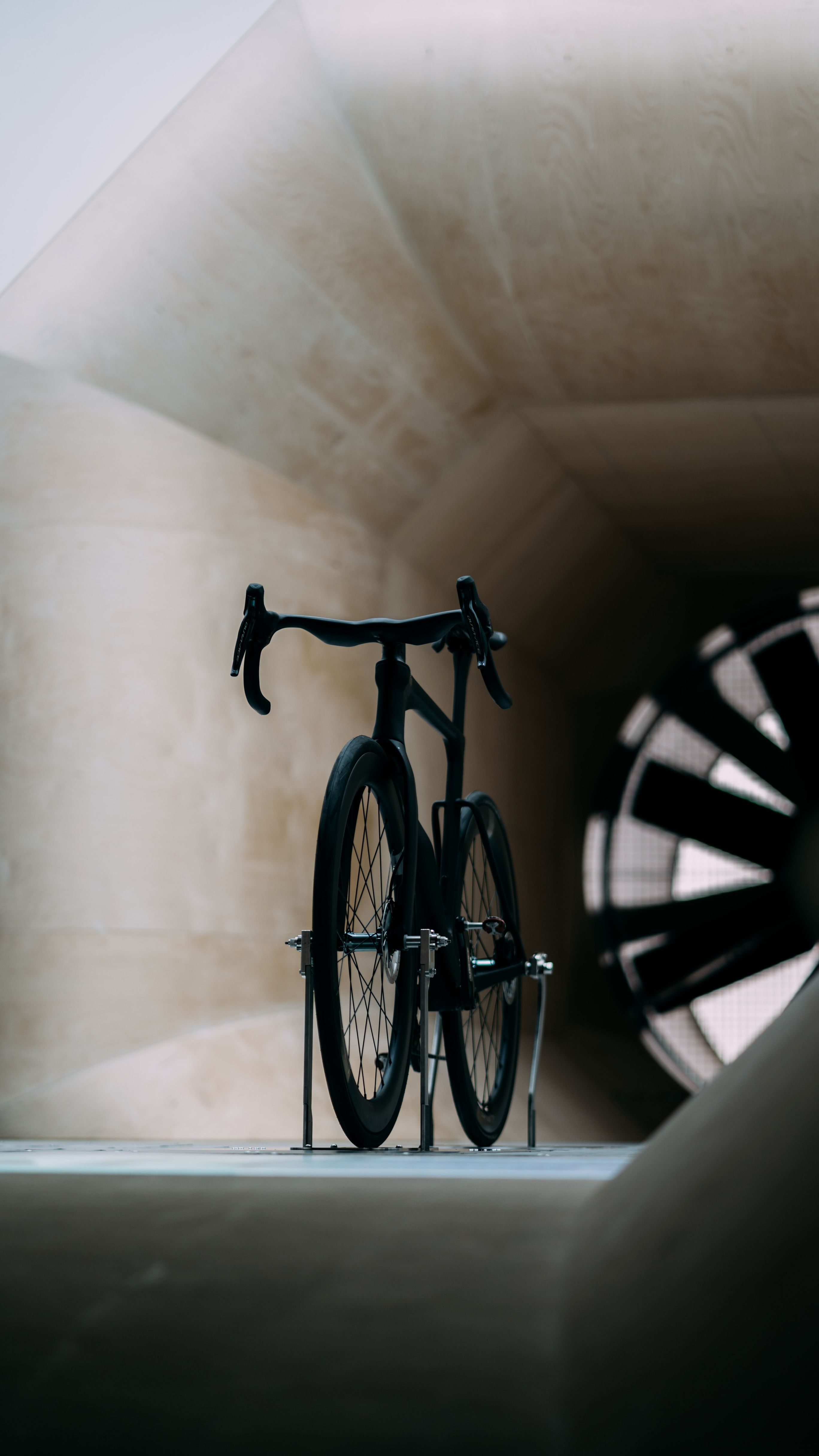 Garmin Edge 530
Sensor Bundle
The compact Garmin Edge 530 GPS Cycle Computer Performance bundle is packed full of features. In addition to the head unit, you'll also receive a heart rate monitor, along with cadence and speed sensors.
View GPS Bundle
Level 5 Carbon Fibre
Bottle Cage
Durable and lightweight, the LEVEL 5 bottle cage performs superbly, ensuring that any bottle stays safely secured, even over the roughest of terrains. Available in a Matte or Gloss 3K carbon finish, it creates a stylish look to complement any bike.
View Bottle Cage
Garmin Rally RS100
Single sensing Power Meter
Garmin's Rally power meters are tested to the extreme, so you can ride there too. Designed for road cyclists, the Rally RS100 features Shimano Pedalling Dynamics - Superlight (SPD-SL) cleat compatibility and measures single-sided power and cadence.
View Pedals